Open positions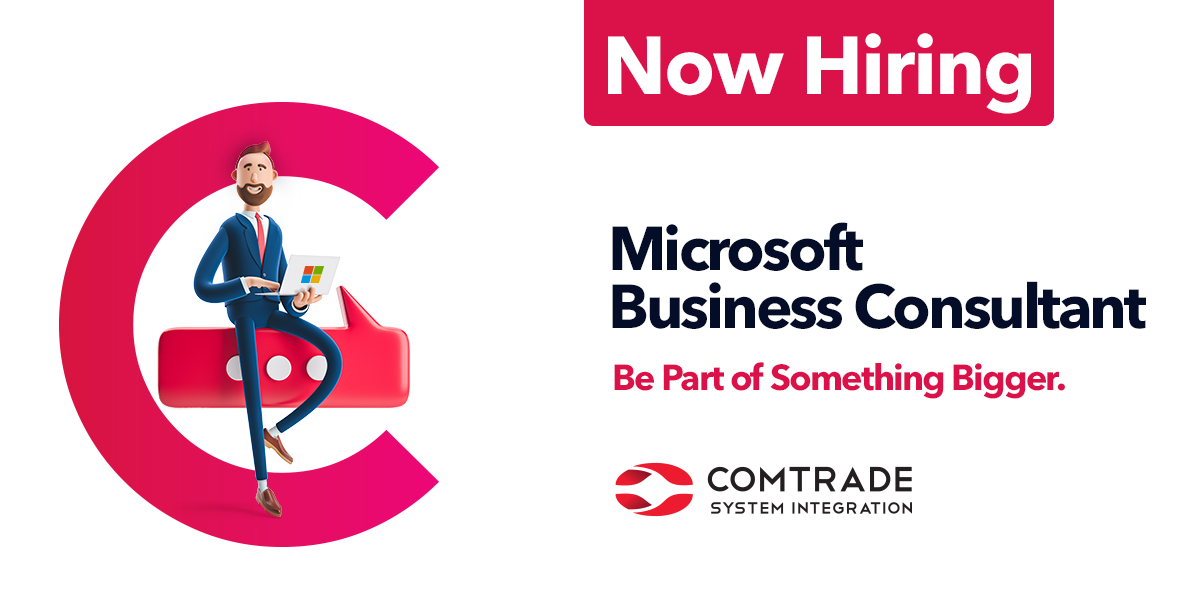 Posted |
August 23 2021
Locations |
Serbia
Microsoft Business Solutions Consultant
Comtrade System Integration, founded in 2001 as part of Comtrade Group, specializes in cloud-based digital transformation and the design, development, integration and management of systems and applications.
Our domains of expertise include Cloud Services, Predictive Analytics, Digital Business Automation, Security, IoT, CRM, AI and more. Through partnerships with global vendors, including Microsoft, Oracle, IBM and Open Text, we offer premium IT products that accelerate digital innovation.
Our team comprises of 300+ IT experts who leverage their deep domain knowledge, top industry certifications and experience to help businesses optimize their IT resources and adopt digital technology faster and more effectively than their competitors.
We are currently recruiting for a Microsoft business solutions Consultant for Microsoft Power Platform and Dynamics 365 to join our team. The objective of this role is to take a consultative approach to implement and deliver business application solutions to our clients.
OBJECTIVE OF THE ROLE:
To take the consultant role within the application delivery team for Microsoft Power Platform and Dynamics 365 (including 3rd party applications such as ClickDimensions). Reporting to the Microsoft Services Team Leader, the right person will provide effective delivery of consultancy, through quality of implementation and knowledge of Microsoft business applications portfolio.
Be a team player working closely with other members of service delivery, i.e. System Engineers and other Consultants and Developers.
KEY RESPONSIBILITIES:
Consulting – covering all aspects; including presales and supporting the sales team, product demonstrations, analysis, implementation and training of end users.
Business and process analysis.
Documenting 'as-is' and 'to-be' within accurate and detailed scoping documents.
Configuration and Customization of system.
Quality Assurance & Documentation.
KNOWLEDGE AND EXPERTISE:
3+ years of project experience.
Experience of working on full life cycle implementations and support of business applications (CRM, ERP, DMS, HCM).
Knowledge of Microsoft Power Platform and/or Dynamics 365 applications is advantage.
Experience of providing Pre-Sales Demonstrations.
Excellent communication and problem-solving skills.
Proven ability to create innovative solutions to solve complex business requirements, and streamline/automate business processes.
Ability to create high quality functional documentation and strong requirements gathering skills.
FOLLOWING TECHNICAL EXPERIENCE IS ADVANTAGE:
Building and configuring Microsoft Power Platform solutions.
Understanding of Azure Cloud Services.
Basic experience with JavaScript, HTML, and .Net/C#.
Microsoft SQL Server understanding.
OUR OFFER:
A chance to work with an outstanding team of people;
Competitive salary;
A chance to influence a strategy of a recognized and innovative service provider in Adriatic region;
Great environment for personal and professional development;
Opportunities for additional professional training and certification;
Encouragement of innovation and questioning the status quo, sharing ideas and knowledge;
Parking;
Private health insurance;
Gym.