News
Article
Posted on
03 | 12 | 2019
Quest for Quality 2019 – where human and artificial intelligence meet
The Quest for Quality Conference, organized by our own Comtrade Digital Services, took place on November 5-6, 2019 in Dublin, Ireland.
Since 2016, Quest for Quality discusses Quality Assurance and its challenges within the IT industry, and, this year, the theme was "Uniting two perspectives on Artificial Intelligence".
Focusing on the intersection of Quality Assurance and AI, this annual software QA and testing conference brought together top IT leaders from all over the world.
Upon asking the attendees to describe their personal Q4Q experience in three words, they said…
The two-day Quest for Quality conference was held at Croke Park. Both days started off with keynote presentations, after which the attendees chose the presentations they were most interested in.
The conference had various topics, ranging from software testing and QA, AI, machine learning, blockchain and IoT, discussions on human experience in VR, improved interactions between humans and machines, as well as human relevance in the age of automation.
To get a better picture of how inspiring and thought-provoking the presentations were, watch the video below where Davar Ardalan talks about the idea behind her speech with Nishan Chelvachandran, titled "How can we build culturally inclusive AI models together?"
Miloš Stoiljković, our colleague from Comtrade System Integration, had an interesting presentation on "The Power of IoT and AI". Since he designed both security and IoT complex architectures, he touched upon the evolution of AI and ML, as well as the additional value that they provide to IoT. Having a rich background in leading high-end security, IoT and service management enterprise projects, Miloš talked about the symbiosis of IoT, ML and AI technologies, and the benefits of using them together.
Andres Latas Martinez and Tomislav Luetić, our colleagues from Comtrade Digital Services, talked about the ways to "Automatize Testing in Artificial Intelligence – The Challenge of the Future". They shared useful tips on how they automated the optimizing and testing of AI solutions during their latest projects in the energy sector. To see their impressions of Quest for Quality, watch the video below.
After the first-day lectures, the Conference organized a round table titled "Testing (with) AI", with our colleague, Dejan Ćušić as moderator. The second day ended with a closing keynote by Rhealyn Mugri themed – "Robots Are Here; What Can We Do to Keep Up?"
Quest for Quality 2019 gave a unique opportunity for professionals and forward-thinking leaders from worldwide to connect.
It's a place where the whole IT community meets and share relevant experiences, as well as new and useful examples from real life cases and projects.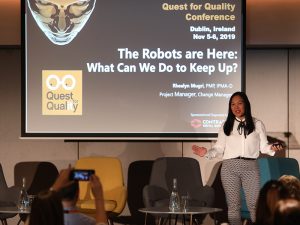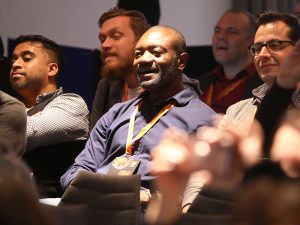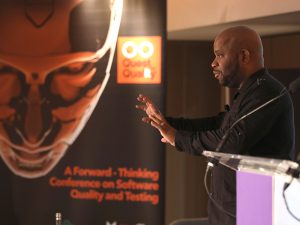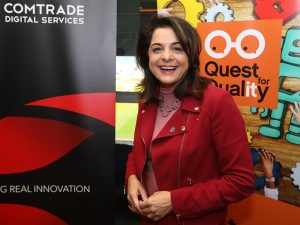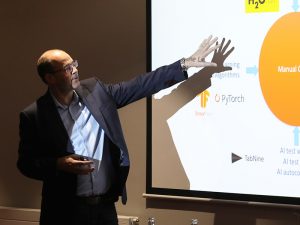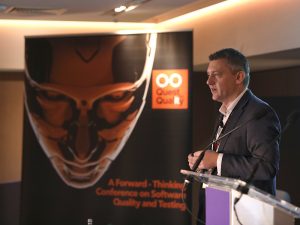 We can't know what the future holds, but we can surely prepare for it!
Quest for Quality does just that by bringing the most fascinating minds together to address the latest challenges in new technologies and find ways to better our tomorrow with you as part of the process.
With that in mind, are you planning on coming to the next Quest for Quality Conference? Keep an eye on the website www.questforquality.eu to keep up with all the news! See you next year!