News
Article
Posted on
31 | 01 | 2014
Comtrade at Embedded World
We will be exhibiting for the 8th consecutive year at Embedded World fair in Nurnberg on 25 – 27 February 2014.
Our main theme on the stand no. 5-241 in Hall 5 will be M2M technology expertise, a must have in a wide range of industries. We will prepare a live demo to showcase our knowledge and experience from the field.
Additionally, our embedded systems expert Ivan Veličković we will present our findings from years of delivering cost-effective embedded solutions at the forum in Hall 5. It is proven that parallel development with automated build system (ABS) and automated testing system (ATS) is the best way to develop embedded system. Since it is always crucial to test new functionality as soon as possible to achieve functional and regression verification, the ATS is best match. ATS client executes test scripts and logs the results, Production testing board (PTB) simulates HW signals that are connected to device, Script Generator generates the test scripts and Report generator evaluates test results and creates a test report. Join him on Wednesday, 26 February, at 14.00, at the Forum in Hall 5.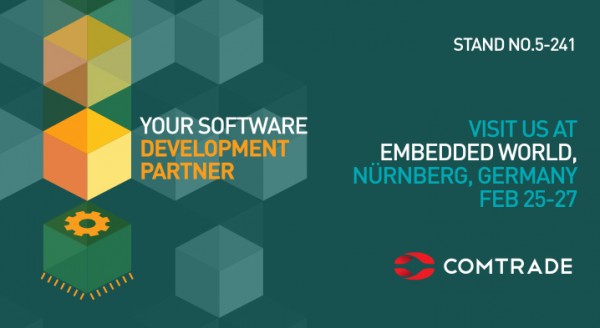 Visit us at our stand no. 5-241 to learn more how we can help you develop even better products and services with our technically advanced and skilled engineering teams, underpinned by highest quality standards.