News
Article
Posted on
05 | 04 | 2011
ComTrade powers IT education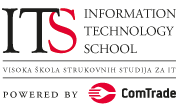 Partnership between ComTrade company and ITS – Information Technology School has been presented in ComTrade technology center in New Belgrade.
Among attendees of this event were the Serbian Deputy Prime Minister for EU integration Božidar Đelić, dean of the ITS Dr. Valentin Kuleto, president of ComTrade group Veselin Jevrosimović, and representatives of the world's largest IT companies offices in Serbia.
Deputy Prime Minister for EU integration Božidar Đelić said that supporting an IT school is an important step forward in the country where there's common belief that people should work for the state and should be educated in state schools. Schools like ITS will provide its students with an opportunity to simultaneously learn, work and gain valuable experience.
"It's good to have healthy competition – public and private colleges and vocational schools . Also, it's an interesting idea to open a high school that will enable young people in Serbia early start in applying of information technologies."
He also said that about 28 percent of the EU total budget dedicated for science goes for IT. Last year, Serbia adopted a strategy for developing science and technology and determined IT as one of the seven national priorities in years to come. The state will provide 400 million Euros for science and technology infrastructure, of which a substantial part be used for IT.
"Serbia should be a magnet for technology companies from all over the world . Those companies care more about young talents than the tax rates. They want to know do we have young experts capable of learning and applying new technologies", said Đelić.
According to the ComTrade president Veselin Jevrosimović it is necessary to realize the importance of investing in the education of IT professionals as creators of Serbia's informatics future:
"Supporting a top quality IT school is the result of awareness of the importance of education for business success, and also for long-term sustainable development of national economy. Software development is a highly dynamic domain where new technologies and methods are pushing possible boundaries and cost effective almost every year. Only those companies that develop their own capacities and invest in new knowledge and ideas have a chance to advance. That's why we have taken the initiative and included professionals' education in our strategic priorities in the future. We believe that the ITS is a right partner for this ambitious project."
ITS graduates gain status of full-scale IT professionals. The best among them will be able to find job in ComTrade or other leading information technology companies such as HP, Microsoft, Intel, Fujitsu, IBM … It is planned that the number of students should be limited so that every student could receive top quality IT education.
In addition to traditional learning system, ITS offers software supported distance learning. They can work on the platform developed and implemented by ComTrade experts to all students of ITS. It gives them opportunity to complete their practical knowledge in time they like.
Dean of ITS, prof. Dr. Valentin Kuleto said that the goal of ITS is not to attract only students from our country but also those from abroad, due to the excellent study conditions, the most renowned lecturers from Serbia and abroad and practice in the largest IT companies.
"We educate engineers on two study programs – Information Technology and E-business, and more fore we guide them through six learning profiles. Accreditation of two new research programs opens conditions for admission of 700 students. Practice in ComTrade builds our students to fully formed IT professionals immediately after graduation. Fact that some of our students receive job offers at the second year of study speaks for itself.
Partnership with ComTrade completely relieves our best students of worries about later employment. The fact that ComTrade is an IT leader in Southeast Europe, commits our school to the highest worlds standards. Our goal is to bring back our education on a position where it once was – the position of knowledge exporters, rather than "brain" exporters."
ABOUT ITS:
Information Technology School (ITS) is a private IT school that educates information technology engineers. School offers six learning profiles within two study programs for the most advanced combination of theoretical and practical knowledge. ITS differs from similar educational institutions because it relies in the real economy through its connections in the ComTrade system. The School offers best studying conditions, working on top quality computers, use of on-line and off-line student services, and work with renowned lecturers from Europe and the world. ITS commission board consists of top experts, including EMC Corporation and Vice President William J. (Bill) Teuber, a regional sales manager for Oracle in the Intel Corporation, Ahmad El-Dardiry.
The teaching and practice is done at 34 Car Dušan street in Zemun and ComTrade Technology Center at 7 Sava embankment street in New Belgrade.
For more information: www.its.edu.rs   www.iths.edu.rs
ABOUT COMTRADE:
ComTrade is regional leader in information technology. The company was founded in 1991. It is one of the few in this domain that was making constant success during the 90-ies. Today, ComTrade Group is leader in information and communication technology in Southeastern Europe, and has its presence on 12 markets in Europe and the United States. The company implements complete ICT solutions, does distribution of IT and communications equipment, production and distribution of ComTrade computers and other electronic equipment. ComTrade has three technology centers and 10 development centers with about 1,500 employees – of which about 1,000 are software engineers. ComTrade exports services and products of their own knowledge on the world's most competitive markets.
For more information: www.comtrade.com   www.comtradegroup.com
Info:
Tatjana Ferendino
Public Relations Manager, ComTrade Group
E-mail: tatjana.ferendino@comtrade.com
Telephone: + 38111 2096756
Mobile: +381 63 206327
Info:
ITS info center
Telephone: +38111 2096777
Dean of ITS, prof.dr Valentin Kuleto
E-mail: office@its.rs