News
Article
Posted on
14 | 01 | 2016
Citrix Acquires Comtrade's SCOM Management Packs IP
Largest European management pack provider spins off monitoring tools for Citrix,
signs ongoing product development and support agreement
LJUBLJANA, BEOGRAD, LAS VEGAS, January 12, 2016 – Comtrade System Software & Tools (Comtrade), a leading provider of IT infrastructure and application management and monitoring solutions, today announced that its Citrix management packs were acquired by Citrix, a strategic, long-term partner of Comtrade.
The acquisition of Comtrade's management packs for Microsoft System Center Operations Manager (SCOM) provides Citrix users with comprehensive, end-to-end monitoring, delivering single pane of glass visibility into the entire Citrix desktop virtualization, network and mobility environment. Customers can proactively monitor the quality of the Citrix end user experience and infrastructure health performance across market-leading products, such as XenDesktop, XenApp, XenMobile and NetScaler, all while leveraging the existing monitoring platform. This functionality enhances the IT department's ability to deliver 24/7, high availability service with proactive alerting and rapid root cause identification across all Citrix components and dependent infrastructures, ensuring a high-quality mobility experience for end users.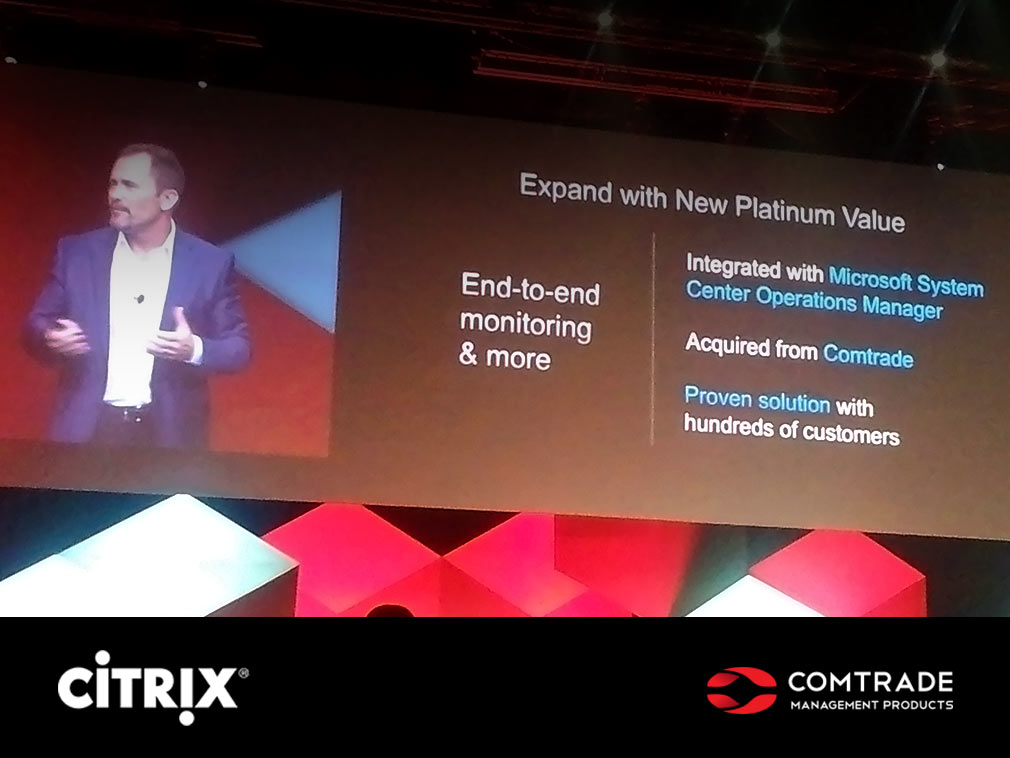 "Comtrade has created valuable native integration of monitoring services for XenApp, XenDesktop and Citrix Workspace Suite with Microsoft SCOM, giving enterprises true end-to-end management of the Citrix environment from one console," said Calvin Hsu, vice president of product marketing, Windows App Delivery at Citrix. "By bringing Comtrade management packs in-house, we will be able to provide our customers with greater control over their infrastructure and end user performance."
Today's announcement came during the Citrix Summit 2016 in Las Vegas. Hundreds of customers worldwide are already deploying Comtrade management packs for Citrix, and those customers will continue to receive Comtrade support. New customers who purchase Citrix XenApp and XenDesktop Platinum editions will receive the Comtrade management packs and support services as a standard offering.
"For more than 20 years, Citrix has been the clear leader in secure application delivery, along with delivering market-leading desktop virtualization and mobility technology worldwide. At Comtrade, we've invested a great deal of resources and manpower to ensure that every Citrix product has a management solution that connects to Microsoft SCOM," said Simon Taylor, general manager and senior vice president, Comtrade. "Our management packs are the world's finest, because they not only collect, but also analyze and present data in a compelling way that allows IT teams to troubleshoot underlying infrastructure issues and deliver an unparalleled experience to end users over any device, any network, anywhere."
Comtrade will continue to push further advancements and innovate in the enterprise infrastructure and application performance management space, developing new products and integrating more business critical systems with leading management platforms, such as Microsoft System Center, and public cloud. To learn more about Comtrade, visit www.comtradeproducts.com.
About Comtrade
Comtrade System Software & Tools is a leading provider of IT infrastructure management solutions specializing in data, system, network and application performance. Comtrade brings proven expertise to different industries through plug-ins for leading infrastructure management platforms, or through our advanced technology that enables vendors and IT professionals to focus on core business deliverables. With more than 1,000 software engineers on staff, Comtrade is one of Europe's largest IT solution providers and is partnered with many of the world's leading technology companies. For more information, visit www.comtradeproducts.com, or follow us on Twitter at @mgmt_products.
Press contact
Erin D. Caldwell
ecaldwell@corporateink.com
617-969-9192