News
Article
Posted on
05 | 03 | 2014
Comtrade at CeBIT 2014
We are proud to announce Comtrade will be exhibiting at CeBIT, one of world's largest IT business event, hosted between 10 – 14 March in Hannover.
Comtrade will showcase its software engineering and product development services with focus on Mobility, Big Data, Quality assurance and M2M.
Check out more about our offering and presentation at CebBIT:
Visit us in hall 5, stand A37.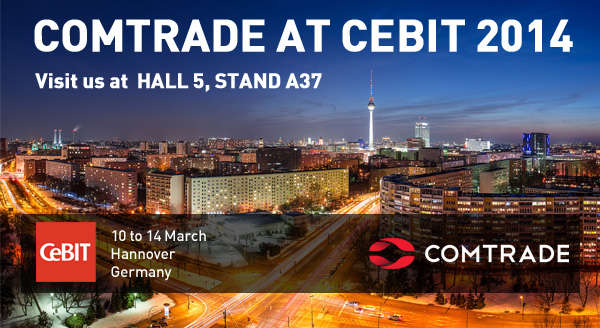 Contacts
Contact directly our representatives at CeBIT to set up a meeting or simply to find out more how we can help your business to grow.
Marko Javornik
Director of International Services
Marko.Javornik@comtrade.com
Jelena Ječmenić
Executive Director
+381 65 20 15 603
Jelena.Jecmenic@comtrade.com
Srdjan Atanasijević
Delivery & Operations Director
+381 64 6413 618
Srdjan.Atanasijevic@comtrade.com
Elma Zevnik
Resource Manager
+386 51 374 227
Elma.Zevnik@comtrade.com