News
Article
Posted on
30 | 10 | 2012
ComTrade's Presence Noted at Sinergija 12
Wherever you went on this year's Microsoft Sinergija, ComTrade was already there – from the Expo hall in Sava Center to the Business Days in Hyatt, ComTrade was present at every stage of the largest IT conference in Serbia.
As we summarize our experiences from the latest edition of Sinergija 12, a high profile IT event that took place in Belgrade last week, it is impossible to overlook ComTrade's partcipation in the proceedings. Once again, ComTrade supported the event as a golden sponsor and was represented in various forms throughout the conference, using this opportunity to showcase its most successful solutions and promote its project delivery capacities to an assorted crowd of IT professionals, potential clients, industry experts and journalists and members of the general population.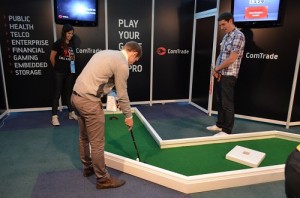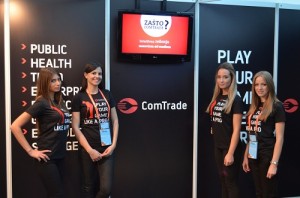 ComTrade's stand in the Expo section of the event was frequently visited and well received, which is not a huge surprise considering that visitors had a chance to play a round of mini golf there and perhaps even win a valuable prize with some luck.
That was just an introduction, because visitors with accreditations could also pick the brains of ComTrade's best engineers and project leaders during the Main program of Sinergija 12. There were three different lectures presented by ComTrade employees, all of them related to successfully implemented IT projects that were partially based on Microsoft's software products: "Integrated solution for resources, payroll and entrance monitoring" by Jelena Tanasijević and Slobodan Matijević, "Anatomy of the electronic registration office" by Ivan Stevanović and Stevan Đusić, and "Comprehensive Health IS" by Borislav Kolak and Predrag Filipović.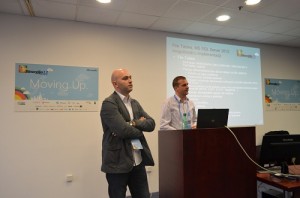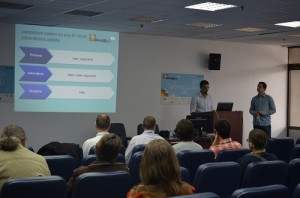 Finally, ComTrade was one of the most prominent participants in the follow-up event named "Sinergija Business Days" which took place in the Hyatt Regency immediately after the closure of the Main program. Our company was selected to deliver a lecture during the keynote for the Public Sector day on October 26th, which our colleague Viktor Kovačević did with the presentation "The future is mobile". This appearance was ensued by two more case studies of public sector projects implemented by ComTrade: project "Hospital information System (HIS) – general hospital in Zrenjanin and Clinics for gynecology in Clinical Center of Serbia" (Snežana Stojanović-Anđelković and Marija Kovačević) and project "Digital school – Digital agenda" (Vesna Nikolić).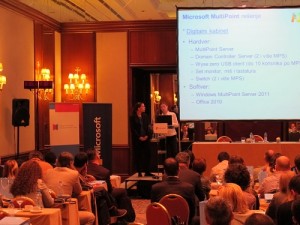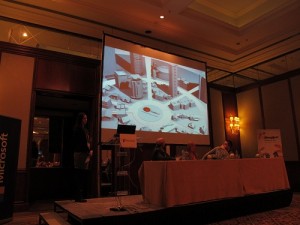 ComTrade traditionally participates at Microsoft Sinergija in order to stay in touch with the latest industry trends and to maintain communication with various groups of special interest, such as future employees and potential partners. This year was no exception – the company was noticed and respected even among the global elite, which positively affects ComTrade's ability to continue its route of development and pursue promising contracts in the next period.