News
Article
Posted on
21 | 09 | 2011
Knowledge Factory opened its doors in Podgorica at University Donja Gorica
Knowledge Factory – the largest IT event in the region has opened its doors in Podgorica, at the University of Donja Gorica, as a central event of the Open Science Days in Montenegro.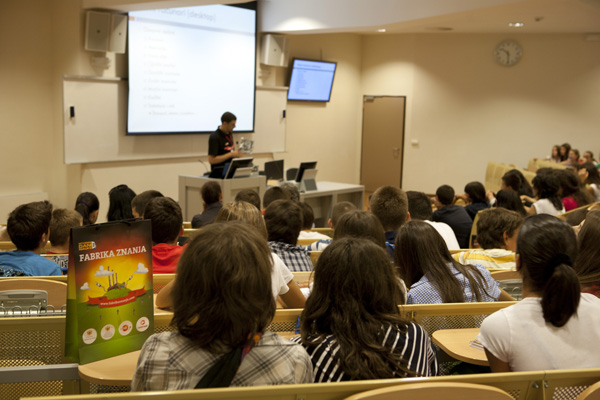 Knowledge Factory was opened by the Deputy Prime Minister of Montenegro for Economic Policy and Minister for the Information Society, Prof. Dr. Vujica Lazović. He said that the level of computer literacy in Montenegro is below the European standards, but there is a good basis for further development of information technology. He said that the number of computer and internet users is large, stating the necessity of changing the way they are used. IT economy affects all aspects of country functioning, and intense technological development as well as accepting the inevitability of economic and social progress is determining the overall development of Montenegro as a modern state.
President of ComTrade, Veselin Jevrosimović said that in the 21st century the economy of a country can`t exists without the information economy, and that the literacy of a nation is reflected by our IT literacy. Therefore, informatics should be understood not only as an economic activity but as an infrastructure industry. Jevrosimović stated that we are witnessing the rapid development of new business and educational evaluation methods on which future economy should be based. He emphasized that the technological gap with the EU can be crossed with transparency and openness to information technologies.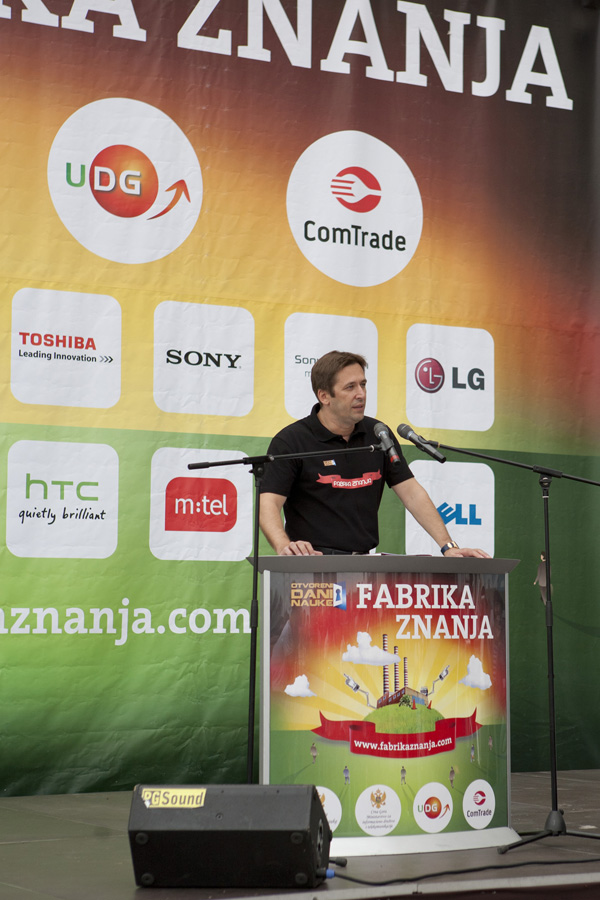 Minister of Science Prof. Dr. Sanja Vlahović told that this event is a good opportunity to see the science and industry working together, producing an effect that is actually a competitive advantage. According to her competitive advantage is what Montenegro has to count on, and information technologies are not only a part of science, but a great tool of science today that gives us a good basis for future development.
Rector of University of Donja Gorica, Prof. Dr. Veselin Vukotić thanked for the initiative to organize Knowledge Factory in the UDG which represents truly ambiance and justifies the purpose of promoting knowledge. He pointed out that the vision of UDG is to build a new type of University – innovative and research-related, which has become a constant in Europe, not only in Montenegro. Messages that knowledge requires courage, passion, vision and work experience are modest message of UDG, passing onto this event, with the hope that it will be passed on through the young people all over Montenegro and the region.
Knowledge Factory Program during the two days consists of a main part – which includes presentation of software and hardware solutions, round tables, forums and discussions, as well as special programs for elementary, high school and college students. They had the opportunity to demonstrate their knowledge and entertain through a series of additional activities at the event and to find out more about the latest software solutions, as well as the new trends in the IT world.
The central part of events first day was a round table titled "Place of Montenegro on the IT map of Europe" that brought together IT professionals, representatives of Montenegro Government and private sector representatives. Also, lots of business solutions presentations of major regional and international companies were held. Lectures were held for more than 400 elementary, high school and college students as well as the Knowledge Quiz and Doris game contest. Quiz winner Andrija Mihaljević, a student from elementary school "21st May "won a mobile phone, while the Doris winner was Amar Bucan, student form elementary school Marko Miljanov, who also won a mobile phone.
The second day of Knowledge Factory was also full of interesting lectures and discussions, focusing on increasingly present cloud computing. ComTrade president, Mr. Veselin Jevrosimović spoke about the role of social networks in the modern world. Second day featured a number of business IT solutions presentations of this years Knowledge Factory partners: HP, Microsoft, Fujitsu, Toshiba, Intel, IBM, Oracle, Cisco, Mtel, Sony, HTC, Sony Ericsson, LG, Computer Land and many others.
Main topic of the second day was a round table titled "Women in information technology" moderated by IT analyst Milica Daković and attended by representatives of the Faculty of Economics, Montenegro Telecom, HP, Ministry of Telecommunications and Information Society, ComTrade, Cisco, Central Bank, ISSP etc. Conclusions from the roundtable were that the gender divide in ICT is not a barrier to a business success and successful career for women in this domain. The basis of success in IT is constant investing in knowledge and skills. Education plays a key role for every person who builds its career in the information economy. It is necessary on all levels, from basic to higher education with as much practice as necessary. It`s also concluded that many initiatives should start in Montenegro, similar to this round table in order to inform the female students for business opportunities in this domain, and to dispel prejudice about the definition of ICT, which is misunderstood sometimes.
In addition to numerous lectures and presentations for over a 600 high school students Doris game and Knowledge Quiz competitions were organized. Best competitors won really notable prizes. The winners of Knowledge Quiz in men's and women's competition in the high school category won a full scholarship for the first year of studies at the University of Donja Gorica. Nikola Popović from Electro-economic school form Bijelo Polje received a scholarship in men's category and Ljiljana Spasić from Economics school received a scholarship in women`s category. The second and third placed in a Knowledge Quiz, Filip Vukmirović from Cetinje Gymnasium, and Danilo Marković from Slobodan Škerović Gymnasium from Podgorica won mobile phones. Prizes for Doris game were also mobile phones. Winner was Nikola Lopičić from Electrical Engineering school from Podgorica. Second place went to Jovan Jovančević, from the Podgorica Gymnasium. As for the college students, winner of Knowledge Quiz was Balša Pavićević, second place went to Mirko Mijušković, a third to Nikola Nikolić. Doris game winner was Boban Šarić while the second-placed was Vukajlo Delić. Prizes for all were mobile phones: Nokia, Sony Ericsson and HTC.
All those who wanted a break between lectures and presentations on this year`s Knowledge Factory had the opportunity to enjoy the Chill Out Zones (Facebook zone, Gaming zone, Twitter zone …).
Knowledge Factory, the largest IT event in the region, was visited by over two thousand visitors, as well as the highest representatives of the Government and the establishment of Montenegro, public enterprises and private business representatives, scientific and educational institutions representatives, elementary, high school and college students had the opportunity to see the latest news from the dynamic IT world.
This was the meeting place of many IT professionals, business people and all interested individuals and organizations where they could share experiences, meet the latest technology innovations and to discuss the possible cooperation. Knowledge Factory goal was to promote information technology as part of a European perspective and to bring IT closer to the general public, as well as to be a meeting place for the education of future IT professionals.
You can see the pictures here: www.fabrikaznanja.com/MediaRoom